SuperQBs, Is the one you love right for you?
Last night witnessed the very first time I live drafted my fantasy foot ball team.... well, by 'live' I refer to everyone hunched over monitors around the Chicagoland area (hopefully, with pulses) submitting their picks in real time.
It was rather different that I had imagined, and certainly highlighted my lackadaisical formula for selection. While I had pre-ranked players, that method ended up being only useful in the sense that you can see who's been cruelly plucked out of your carefully (HA!) constructed list. Upon arrival at the draft area I was "awarded" the 6th pick overall out of 10. This position quickly served to highlight any mistake I made, and forced me to relieve it.... I must have missed the memo that we were drafting kickers in the 7th round and spent an agonizing time waiting for my turn to pick up a scrap (
Sebastian Janakowski
, nothing like a veteran drunk!)
The IM trash talk was somewhat amusing, but it lacked the pique of our normal posts.... we WERE, however, missing
Logan's Dave
and, I have a secret suspicion the other lads were up to there eyeballs in depth charts and fantasy mags! I did manage to snag two halfway decent quarterbacks (
Tom Brady
,
Jake Delhomme
), although by the looks, my team should be renamed the "Tiger Beat's Turf Toes" as I certainly have the teen dream equation down pat.
This adventure will hopefully parlay into a minimum of giggles at my NEXT draft (why have one team when you can have two?), which is REALLY LIVE, complete with draft board and stickers.... and the added bonus of sitting with a red face for a round while I'm asked why in the world did I pick a Packer?!? (No, I jest, that just wouldn't happen without a concussion being involved!!!)
Ah well, my QBs cheekbones are not only cuter; but much, MUCH stronger than
Rex Grossman's
overall bone density.... that's my strategy and I'm stuck for '05 with it!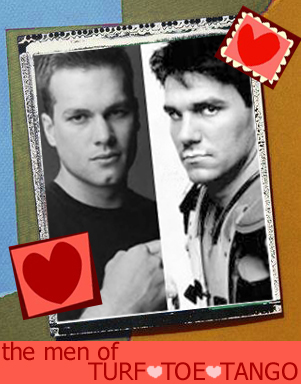 Win a lock of hair and 50 Fantasy points!