Moving on up....to the Lakeside!
Hi Blogosphere, it's been awhile...it's trite, but I've been busy. The biggest fence I've been perfecting my jumping form on is my impending move next Saturday to the delightful (or so I've heard)
Belmont Harbor
area. Believe it or not, I've had actual requests for visual progress reports, so I bring you...."Jen's Move Cam"....this might be a recurring feature over the next 10 days if impressive box elevation or unfortunate quagmires entail. For those not in the know, this is all I have accomplished boxing of a 1-bedroom apartment; you may now utter whichever phrase of pity you prefer...I personally like "Glad I'm not her!"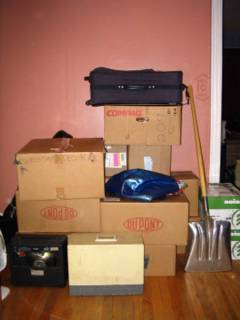 A Game of Dining Room Jenga anyone?